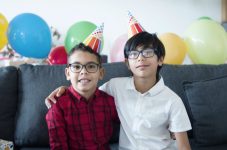 23 Best Gifts For 9 Year Old Boys – Inspire Your Kids Through Play
It is difficult to choose the best gifts for 9-year-old boys. However, it is possible if you consider your imagination and devote enough time to the choice.
Choosing gifts for loved ones is a responsible and pleasant occupation for both the giver and the recipient, especially children.
The older the child, the more he is interested in many new things. A kid will be happy with an ordinary educational toy, while a 9-year-old boy will not be surprised by this thing anymore.
We created a list that covers the most brilliant ideas for the gifts for the boys. Let's check them out!
Top-Rated 23 Best Gifts For 9-Year-Old-Boys
You can buy a typewriter, a board game, or a set of tin soldiers. But, will the boy like the present you give him? You need to know his preferences and interests to choose a really useful and necessary present for him.
We have compiled one list of the most interesting options, among which you can easily find one that will delight almost any boy.
1. Makeblock mBot Coding Robot Kit
If extracurricular activities come to the fore, support the boy's talents by buying targeted constructors.
Robots can talk and walk, dragging your children from the world of smartphones, tablets, and television. It is good training for future robotics, aircraft modelers, and builders.
2. Pindaloo Skill Game With 2 Balls
The Vindaloo skill game with balls is about pure old-fashioned fun. Its mechanism is pretty simple yet opens up endless possibilities.
You can loop the ball by throwing it from side to side. But master it, and it will do some pretty tricks for you. Your kid can practice anywhere, indoor or outdoor.
This game is suitable for all ages. We promise that your son will love it. Once he's got it in his hand, he'll get so caught up in the game that he forgets about the computer and the television. And it is the effect we want.
3. CUKU Flying Toy Ball
The first thing that will make you happy is that the ball still flies. It can hover half a meter from the palm or surface. The proximity to the surface increases the speed of the propellers.
The flying ball is a controlled toy with touch sensors, with the help of which the ball hovers in the air the hand.
It has small blades like a helicopter; while easy to bend, they are very strong. The ball works easily and quickly after a full charge in 20 minutes.
4. Sillbird Robot STEM Projects
The present time is making great strides forward in child development through interaction with a toy robot.
This STEM kit does not require the child to know the basics of the programming language. So, a boy can program it without the help of a computer.
5. HOMOFY Solar Robot Kit
loi
The assembled models are an electromechanical toy that looks like a robot outwardly while not being one. The main task of the child is to correctly install blocks with motors and attach various parts to them.
As a result, he will get a model that can drive, spin in place, walk, move its "arms," or rotate its "head." It can become your pet.
Of course, they are not real animals, but electronic pets can do almost everything that living ones can do. And most importantly, it is hypoallergenic to your kid.
6. LEGO Gadgets Science/STEM Activity Kit
Not long after launching this set of Lego installation masters, it is highly respected by Lego fans worldwide. The game comes with a book. Every step and illustration is very clear; even if you don't read the text, you can understand it.
The boys with strong hands-on ability can play with their parents and friends. Most of them only need a dozen assembling steps to be done.
After using this installation master to create the main structure and shape, it is much easier for children to make their imagination come true.
7. Remote Control Building Kit
Every boy desires a remote-controlled car, plane, boat, or helicopter. These toys personify the whole microcosm of the situation control. They are suitable not only for fun but also for developing thinking, imagination, and logic.
8. AESGOGO STEM Projects
STEM toys can inspire your kids with an early interest in science or technology for a better future occupation.
This toy comes with 12 robot models with a common "base"; therefore, having assembled one of them, assembling the rest will already be a matter of several minutes.
The assembly process includes several simple parts: assembly of the basic structure, of unchangeable accessories, and various parts of the robot.
9. UWANTME Electronic Shooting Target Scoring
This fantastic shooting game is a wonderful way to spend time with your friends. It will be a lot of fun and will show you who has the best accuracy.
To become a shooting champion, you need not a hawkeye but a well-aimed launcher. By knocking down three cells, we get one point, and all targets automatically go up. Now we can continue the fun.
The dial features light and sound effects. After hitting the target, we hear the sound of breaking glass or thunderous applause.
10. Tekville Education MakeLab
If you are worried that the boy is growing up and devoting more time to gadgets and not studying, give him this educational set of toys. He will be able to comprehend the tricks of science right at home.
11. STEM Toy Building Sets
It is better to buy a large construction set for a 9-year-old boy than to buy many puzzles. At the age of 9, the boy grows up and learns new things around the world.
There are various constructors of different subjects that reflect the interests of the child. For 9-year-old boys, we recommend choosing sets of tanks, cars, and boats.
12. LEGO Overwatch Wrecking Ball
Wrecking Ball is a hero who has only joined the Overwatch heroes in the past two years. The best part of this role is that it can deform and roll and "fly" by traction.
This series made a lot of innovative designs for the Blizzard game "Overwatch." Lego also designed the original paint color of this hero.
When the motor opens the ball, it can also provide good firepower. We can say that this hero has played well, and it is very brilliant.
13. Rummikub by Pressman
Rummikub is a game about numbers. The game components include numbered tags, chip holders, and game rules.
The tags are made of plastic and numbered from 1 to 13. All the chips are two copies and two joker tags. In total, we got 106 tags.
You need to put all the tags face down to start the game, and each player takes 14 tags. The first move must consist of a combination of numbers giving a total of at least 30 points.
14. The Bonkers Battle of Wacky Challenges
160 challenges are waiting for you to explore with friends and family. You will need to complete absurd games with your ingenuity.
This team game is suitable to play for both adults and children. Just a few minutes to follow the instructions, you will have hours of laughter and increase your connection with others.
Related Post: Best gifts for 8 year old boys
15. Ticket to Ride Board Game
Board games – at the age of 9, children need communication in the process of mastering new things. It is about long journeys and pirate adventures. This game helps the boys experience both benefit and delight.
16. The UpsideDownChallenge Game
To play this game, you need to wear a pair of glasses that disrupt your vision. Then your partner will ask you to do whatever task they can think of.
You can't imagine when you fail with the simplest tasks, like writing your name or pouring water into a glass. The UpsideDownChallenge Game is a fun interactive game for all ages.
17. Melissa & Doug Suspend Family Game
This game challenges your wits and skill. All you need to do is build a balanced tower built from 24 game rods.
Melissa & Doug have created many great family games, and suspend family games are no exception. It is not only for fun but also helps children develop hand-eye coordination and logical thinking.
Related Post: Best gifts for 7 year old boys
18. LEGO Harry Potter Hogwarts Moment
This game is for those who are looking for a fresh way to approach the wizarding world. LEGO Harry Potter Hogwarts Moment simulates the magic class in the movie of the same name. With a rich imagination and a persistent memory, you can finish the game in just a few minutes.
19. Razor DeltaWing Scooter
The bicycle is gradually becoming a thing of the past. Modern boys travel long distances, and the electric scooter can be folded up and taken with you to the mall or even school.
20. Beginner Microscope STEM Kit
A student that is fond of chemistry and physics may be interested in this gift. It is a piece of compact and useful equipment for a kid to explore his surroundings. With its help, he can conduct various experiments, improving your knowledge of the sciences.
21. Simon Micro Series Game
Simon Micro Series Game is a world-famous game from the 1970s. The gameplay is simple but can be addictive.
All you need to do is memorize the number of times the light blinks. You may fail the first few times, but you will notice your memory improving.
22. LED Bike Wheel Lights
It is worthy to delight your little boys with these wheel lights. They ensure compliments for him from everyone wherever he appears.
There are two features for you to choose from constant-on and flashing mode. It is easy to install for style driving.
Related Post: Best gifts for 6 year old boys
23. Remote Control Car Building Kit
Such a present is suitable for young engineers and those who are fond of technology. The boy himself will assemble a model of military equipment, cars, aircraft and begin falling into the era from which the toy comes.
For a 9-year-old boy, this type of toy is for developing spatial perception and coordination of movements. While playing with a remote-controlled device, the boy will learn how to increase his creativity and patience.