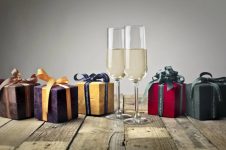 28 Best Gifts For A 22-Year-Old Man That Are Useful For Daily Life
Finding the best gifts for a 22-year-old man is tough duty. Guys often see birthdays and surprises differently from young ladies.
Remember that men value practical gifts. Although your lover is far from a mature man, he will still be happier with a thing that will find application in his daily life.
If you approach the present and give it responsibly, this moment will be more precious than ever. So, it is worth exploring our list of 28 gift ideas for your dear.
Among the proposed options, you will surely find suitable options that can please your man. Do not forget to make the giving moment even more memorable for the man with your unique congratulation and presentation.
Now, let's pick up some gifts for that event!
28 Best Gifts For A 22-Year-Old Man
No matter how expensive or inexpensive a gift is, a serious approach to the issue and an attentive attitude to your soulmate will make the gift especially valuable and desirable.
1. LEGO Building Kit
As a child, your man loved building Lego. Now, he is already 22 years old, and he still thinks that Lego is a very creative activity for adult men.
People create amazing works of art and installations. There are many different constructors for adults, from which you can choose a set for your hobbies, lifestyle, and specialty.
2. 10000 mAh Portable Power Bank
Nowadays, a portable power bank is quite a practical and indispensable item in everyday life. While choosing a charger for your man, pay attention to the large capacity of the battery.
A capacity of 10000 mAh is a superior choice for a man who spends most of the day outside. The charger's design must be compact so that your man can take it with him on his picnic, on running, and so on.
3. Kindle Paperwhite with Waterproof
There are some reasons why people who love reading buy a Kindle Paperwhite. It features a 300 PPI non-glare screen and a gentle light that does not harm your vision.
As the second pros, the Kindle Paperwhite can work on a single battery charge for several weeks. You need to take it along on short trips and enjoy reading by the beach.
4. Sony Wireless Noise Canceling Headphones
For music lovers, headphones will certainly be a wonderful gift on the occasion of a celebration. You can present them not only to a loved one but also to yourself.
Even if the recipient already has a favorite device for listening to music tracks, an extra pair will not hurt. It will become a backup option in case of breakdown or loss.
You don't have to spend a lot of money to make a good purchase. Sony Wireless Noise Canceling Headphones is an adorable choice for a 22-year-old man.
You can also attach your handwritten verse to the gift. It will bring even more joy, and your man will remember the present for a long time.
5. Ray-Ban Sunglasses
Sunglasses not only help protect your eyes but also add a special charm to your outfit. Correctly selected accessories hide facial flaws and add even more charm to a man.
Your man is going to look attractive in a pair of Ray-Ban sunglasses. These accessories are suitable for all types of appearance. So, it probably pleases your man at all moments.
6. GEEKERA 3 in 1 Wireless Charger for Apple Products
If you are a follower of the Apple brand, you cannot ignore this wireless charging stand. It offers a 3-in-1 function that allows you to charge Apple Watch, iPhone, and AirPods at once.
The charger comes with its smart construction and delivers productive charging in a short time without harming your devices. It is also compact to carry around. It will be a pity if you do not own some for yourself and your loved ones.
7. Deep Tissue Percussion
A massage gun will help your guy relieve muscle pain, which results from long hours of work or playing sports. The gun features a massage amplitude of up to 12mm, delivering quick bursts of pressure in all body areas for immediate pain relief.
It is a gift of health for someone you love. Your boyfriend does not need to spend a lot of money on a massage therapist because he can do his care at home.
8. Samsonite Expandable Luggage
This Samsonite luggage is ideal for long trips because of its spacious interior that can store many items.
There are straps to compress your belongings to fit your luggage. It will certainly please your man because men always want practical items rather than decorative statues.
Related Post: Best gifts for 23 year old man
9. Nintendo Switch Lite
Nintendo Switch Lite stands out from other consoles because of its long battery life. It can last 3 to 7 hours for games like The Legend of Zelda.
It would be suitable for people who travel a lot and those who love to play lying in bed. Most importantly, it comes at an affordable price. Buy one for each member in your friend circle to spend hours of playful gaming with them.
10. Waterproof Desk Mat for Office/Home/Gaming
The 22-year-old spends hours in front of a computer screen. Therefore, the man will need a desk pad for comfort learning, working, and playing the game.
What is special about this item? It has two sides with two different colors to change. Waterproof leather allows him to use the pad for a long time without worrying about getting dirty.
The 36″ x 17″ size is too much for him to place the keyboard and comfortably move his computer mouse around.
Your boyfriend can also use this pad to decorate his coffee table, cabinet top, or whatever he wants. Its versatility makes it one of his favorite gifts.
Related Post: Best gifts for 20 year old male
11. DualShock 4 Wireless Controller
Is it necessary to buy a game console when you already have a PC? The answer is yes. Many games that come out on consoles don't make it to the PC at all.
For example, the same Nintendo Switch library consists almost entirely of games released exclusively for this device. Suffice it to recall the epic adventure The Legend of Zelda: Breath of the Wild or an amazing platformer Super Mario Odyssey.
Playing in one room and one TV is an unforgettable pleasure that brings people closer. And in this regard, the advantage of consoles is obvious.
Related Post: Best gifts for 21 year old man
12. Bose Portable Smart Speaker
Enhance your music experience with the Bose Portable Smart Speaker. Within the Wi-Fi range, you can control the speaker with your voice with Amazon Alexa technology or your Google assistant to play built-in music services like Spotify, Amazon Music, and Pandora.
It is a member of the Bose smart home family. It means you can have a multi-room sound. It's great to enjoy a technological life!
13. IgnatGames Professional Dart Board Set
Let's have the party begin with this professional dartboard set. It also gives you all the tools to be ready to play with friends and family with no setup required.
If you've never started playing this game, this time is for you to try. The guidebook includes 35 ways to play darts that will help you get the most out of this board.
Enjoy feathered darts with your loved ones. And you'll have fond memories to look back on as you get older.
14. Tile Pro Bluetooth Tracker
You have so many keys, and it isn't easy to always know where they are. A smart tracker may be what you're looking for. The tracker works with Google Assistant, Amazon Alexa, Siri, and Xfinity to help you find anything.
Hook it to your belongings and click the Tile app on your phone. Then, it is easy to locate your keys, bags, or anything within 400 feet. This helpful tool helps you save time and protect your stuff from being lost.
15. Laptops Backpack with USB Charging Port
We all admit that men carry many things all the time: books, laptops, chargers, tools, and so on. Thus, he probably needs a bag that is spacious and strong enough for all his belongings.
It can be great if the backpack has a professional style. So it could be appropriate for college. In particular, a USB port on the right side of the backpack allows you to charge your phone while on the go.
16. USB 2.0 Flash Drive Drive with Keychain
Choosing a gift for a 22-year-old man is never easier than before. Think of a thumb drive with a little keychain.
As long as he continually takes it with himself, all the documents will be safe and ready to go. No matter if he gets wet or drops it from a high distance.
It works well due to its firm material and waterproof functions. Holding information is always important for busy people. So make it right!
17. UV Water Purifier Bottle
Water is a wonderful thing, but it is not always available on your side, especially when you're outside.
Your man must have a bottle which is using an innovative UV-C LED to sanitize water. Keeping the water clean and cool also saves time and money. But the main point is taking care more about health.
18. ODISTAR Desktop Vacuum Cleaner
If you are looking for a useful product for a 22-year-old man, a mini vacuum cleaner is an ideal option. Young men usually mess up their space.
A vacuum cleaner is an encouragement for improving lifestyle. It is good enough to complete all chores in a very small amount of time and effort. Everyone loves staying in a hygienic and dirty-free room.
19. USB Wall Charger
Your smartphones, laptops, tablets, and airdrops need to be full of batteries for work. It's so annoying when all the devices you need keep running out of energy at important moments.
A portable charger is the best solution. It must be small and high efficiency to afford all your devices and be convenient for outgoing.
This Anker charger allows you to power six devices at once. This brand is always at the forefront of quality, so you can rest assured to use its products anytime, anywhere.
20. Vinyl Record Player
Everyone has a special affection for music. Modern speakers could not bring the exact vibe and value of classical or old music for some people.
They have their own devices. A classic record player sounds pretty awesome because it delivers a warm and balanced sound.
It may be a wonderful full decoration in your living room. Or a spotlight of a place where you can put your mind at ease.
Suppose you feel afraid of sharing your thoughts. Let the music represent your affection.
21. Alienware m15 R4 RTX 3070 Gaming Laptop
A gift for a 22-year-old man should be a gaming laptop. It is a fun way to release his tension.
Gaming laptops are not only about games, but they also have superior performance. So it helps bring the best experience for watching and processing work.
All gaming laptops have cool designs and fit well with all men. If only you guys had positive mental health, you could reach your best capacity.
22. Adjustable Laptop Stand For Desk
Staring at a computer in the wrong position can make your neck pain. The pain is the first signal for more serious health problems.
Bring your body back to the right position with the laptop stand for the desk. It is easy to adjust, allowing you to work in the most comfortable position and prevent bad habits.
It also protects the laptop from overheating and saves more space for your workspace.
23. Bluetooth Beanie Hat with Light
Camping or overnight activities usually excite young men. So what does he need to bring in his luggage? A smart beanie hat may be a great idea.
The hat comes with a light and a speaker. All-in-one products are great for saving time for preparation and are ready all the time.
This gift for a 22 years old man may help him reduce the amount of stuff he brings out. He can use it for enjoying music while running in the early morning, going camping, or fixing things in the dark.
24. Sony Noise Canceling Earbud Headphones with Alexa Built-in
Cable earphones are never an instant solution for everyone. So a wireless earbud headphone can make you pleased.
These items come with high-tech noise cancelation. You can enjoy the high-quality sound through your call on the go without having to turn the volume up to avoid hearing loss.
25. Xiaomi Mi Smart Band
If your boyfriend cares about health so much, a smart band is the right gift for him. It is a cool way to track health indexes like heart rate and oxygen sensors. A band is a necessary tool for sporty persons.
It is a wonderful assistant for your health. Instead of a luxury watch, a smart health band may be meaningful care for your favorite.
26. Arlo Pro 3 Spotlight Camera
You are away from home and are worried about your property. A security camera will reassure you.
The data from the camera is the best evidence for any bad behavior. You will always be in the safe zone.
Otherwise, you can receive instant alerts. Wherever you are, safety always goes first.
27. Apple iPhone 13 Pro
Apple's products are always something a young man desires. If your man's birthday is coming, an iPhone 13 is a perfect gift for him.
Having a product that contains the latest techniques and trendy designs is groovy. It's not all about a phone but about a classy lifestyle. iPhone 13 is the best way for you to catch up with the large world out there.
28. Indoor Putting Green with Ball Return
If you are too lazy to go out or spend a lot of money hiring a large golf court, you should try an indoor putting green with a ball. Playing at home with your partner on Sunday morning is a good plan all the time.
These kinds of products allow you to define yourself in golf. You can enhance your skills by practicing with this model and preparing for the larger process.
We hope our article is going to help you find something that suits your loved one. We wish you successful purchases and a happy celebration!