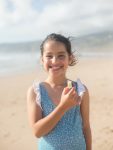 Top-Rated 23 Best Gifts For 9-Year-Old Girls For Any Special Occasions
What are the best gifts for 9-year-old girls? Many parents ask this question when their 9-year-old girl is coming up for a special occasion. And when the girl receives her favorite gift, the parent will also be very pleased.
Choosing a perfect present for your little princess is not that hard. As long as you care for her enough, you can be sure about her preferences.
This article recommends 23 options that can work well in most cases. Let's scroll down and take note if there's something that interests you.
23 Best Gifts For 9-Year-Old Girls
Now, it's time to go shopping. Put anything good in your shopping bag and choose the best option once your shopping is over!
1. Lip Balm Lab Makeup Kit
9-year-old girls start to focus on their appearance. It's reasonable to give them a make-up kit as a gift.
This Lip Balm kit includes 24 lip glosses with five lip balm boxes. There are also juicy scents, such as cherry or grape, for your little girl to choose from.
The kit comes with a cute bag so that she can bring it anywhere she goes.
2. Bluetooth Wireless Karaoke Machine
Let your 9-year-old daughter strengthen her relationship with a karaoke machine. Her group parties will never get boring.
Your daughter can enjoy singing and listening anytime and everywhere. This machine also provides a clear audio system and vivid sound. Children don't need to go to a karaoke bar for an authentic karaoke experience.
3. DIY String Art Kit
The String Art Kit is an excellent method to encourage creativity in 9-year-old children. Kids just need to put pins into the pre-patterned bases and start to string right away. Then, they can hang their artwork on the wall to show off to family and friends.
The kit enables your daughter to create the art with their provided patterns or even make a new one on her own.
4. Hapinest Jewelry Arts and Crafts Kit
Girls at the age of nine will enjoy making their colorful pendants and beads. They can create customized necklaces and bracelets for themselves or give to friends and family.
The Hapinest kit comes in eight colors, three pendants, 12 charms, and 100 beads. Your lovely daughter, therefore, can create tons of different gifts for her beloved.
5. Galaxy Lamp
Everything beautiful can all win a little girl's heart. This Galaxy Lamp is an outstanding example.
The manufacturer has created a one-of-a-kind starry sky picture. It's the product of a beautiful combination of traditional hand printing with cutting-edge 3D printing technology. As a result, this gift appears modern and classic at the same time.
6. National Geographic Stunning Chemistry Set
This package includes a vast number of chemical experiments. Your girls will then have hours of fun discovering the effervescent, just like in a real lab. Your 9-year-old daughter can learn scientific procedures as well as some key chemical principles.
She'll also know how to run experiments safely and adequately. This science kit is a great place to start if she's interested in pursuing a career in STEM.
7. UNO Family Card Game
UNO is one of the most popular games for every group party. If your daughter plans to have some camping or outdoor activities, give her one. Playing this card game brings people together, making it an excellent chance for her to make friends.
UNO is not only about fun. Players have to strategize to win the same. UNO is suitable for all age levels.
8. Waterproof Action Camera Toys
You can't give your 9-year-old daughter a camera, although she loves taking photos. Don't worry! You can give her a camera toy instead.
This Waterproof Action Camera Toy camera comes with 12 built-in frame picture effects plus seven video filters. It also offers face detection and selfie features. Hence, your little girl can capture her favorite moment at any time.
Related Post: Best gifts for 8 year old girl
9. STEM RC Robot Building Kit
The robot is not only for boys, especially when it delivers tons of valuable lessons.
This instructive STEM building set will educate children on how to assemble the various components and how the construction process operates.
It also fosters the value of cooperation while helping kids build physical dexterity, problem-solving abilities, and self-confidence.
10. ThinkFun STEM Toys
This gift is the combination of a STEM toy, logic game, and marble run concepts.
It's always a good idea to educate children's spatial thinking and planning abilities by letting them play with toys. This kit is partially an engineering and construction toy that allows your daughters to learn many useful things.
11. Mulan Costume
Mulan is the most favorite movie character among little girls. Your daughter may not be an exception. If she's also a fan of Mulan, give her a chance to become a heroine.
This outfit will surely impress other's attention. The material and design are comfortable enough for your little girl to act all day as her idol.
12. LEGO Roller Coaster Building Kit
LEGO fits both boys and girls. This toy is excellent at building creativity, teamwork, and confidence in kids.
LEGO Roller Coaster Building Kit allows children to bring a night of thrills and fun to life. The pirate roller coaster toy allows your daughter to ride with her favorite tiny dolls. She can even pretend to ride a toy carousel all day.
13. Nighthawk Ride-On
The innovative steering approach can teach kids how to move past obstacles. Riders can lean right and left. They can easily maneuver around the obstacles thanks to the low-riding, elegant design with supportive wheels.
This toy complies with the safety requirements for children. It has easy-to-steer handlebars as well as a black safety flag for further protection. Thanks to the flag, you can find your daughter everywhere.
14. Weather Science Kit
With Weather Science Kit, your kids can learn about the climate mysteries via the budding meteorologist. The set will also educate your little scientist on how to graph and forecast it.
The package includes 20 exercises for any season and in any environment. It contains a broad scope of weather-related topics while also strengthening children's cognitive abilities.
15. Kolegend Pink RC Car
Most 9-year-old girls love pink. If your pink girl is a car fan, the Kolegend Pink RC Car is the best idea available for her birthday.
This racing RC car has a fresh new unique pink shell appearance on the outside. The beautiful body, along with the attractive car look, provides an unrivaled visual appeal for your little girls.
This car is not only beautiful but also powerful. Your daughter can adjust the speed and control its directions for an authentic racing experience.
16. STEM Motors Assembly Robotic Kits
STEM always encourages your kids to learn. This building kit promotes your kid's social skills, logical thinking, and concentration. It also helps kids to learn about engineering, motor, and mechanics principles.
The kit consists of robot parts, a screwdriver, and an instruction manual. Your kid needs to follow the instructions and assemble the pieces to build a complete sample. She can also make her own robot with the tools given.
Related Post: Best gifts for 7 year old girl
17. Zupapa Trampolines
The trampoline can bring more fun time for your kids with its simple function. You can add some ideas for the trampoline playing time by combining it with basketball or chasing the game.
How about safety? You don't need to worry since the Zupapa trampoline has exceeded the standards from TUV and ASTM for durability and safety.
18. SISIGAD Balancing Scooter
Both boys and girls love balancing scooters. Choosing this gift for your 9-year-old daughter never fails to surprise her.
New Scooter models also include built-in wireless speakers. Your daughter can enjoy her riding time while listening to music without wearing earphones. Once she can control the scooter, she won't stay all day looking at the screen anymore.
19. Swingset Accessories
If there is a big tree in your garden, nothing can beat a swingset for fun.
A round rubber bottom disc comes with this rope climber. Your kid can stand or sit on it. There are also platforms to assist them in climbing and enough rope to grip and climb without assistance. Balancing on the rope is a beautiful technique for your kid to strengthen her muscles and core.
20. TableTopics
Sometimes, simplicity means more and works best. Although TableTopics appears simple, there are many exciting things to discover inside, making it the best-selling discussion starter, with over 2 million copies sold.
The manufacturer has compiled a list of topics that girls will love sharing and anecdotes and quotations from some very remarkable women. They will undoubtedly inspire your 9-year-old daughter, allowing them to broaden their own horizons and dream more significant dreams.
21. Hicdaw Lantern Craft Kits
These craft kits are ideal for bringing your family together to have some fun. It may be a fun way to pass the time when you utilize the children's creativity to engage with this lantern craft kit.
Your kids will be able to construct lovely fairy lantern lights in just a few steps. They are free to include tiny fairy silhouettes, stickers, flowers, and ribbons. Your daughters may even build a star lantern of their own.
22. SmartLab Secret Message
Your little girl is growing up. She must have secrets and want to keep them for herself. Hence, the SmartLab Secret Message is ideal for her needs.
This package includes everything a young girl needs to know about writing hidden messages and making codes. Secret Message Lab uses invisible ink to keep secrets private and explains the science for the mystery.
Related Post: Best gifts for 6 year old girl
23. Jewelry Making Kit
Girls never have enough jewelry. It would be even better to wear the jewelry made by themselves.
With this jewelry kit, girls can make stunning pieces. They can also remake the details for different styles at any moment and on every occasion.
Trendy colors and silky textures, along with various sizes and designs, ensure that your young girl will fall in love with it.