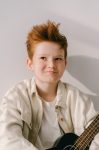 Best Gifts For 11 Year Old Boys – 27 Ideas Delight Every Child
Sometimes it is not easy to decide on what are the best gifts for 11-year-old boys. At this age, boys change rapidly, both physically and mentally.
If you find yourself in this embarrassment, our collection of amazing gift ideas for a teenager will help you solve the issue!
The most important thing is to find out what they dream of and their hobbies and interests. You will find various ideas for your kid on our site.
Let's read on to discover!
Top 27 Best Gifts For 11 Year Old Boys
At this age, boys want to receive compliments from friends. Therefore fashionable toys that are popular and have many will in any case not be superfluous. It is good when the gift is associated with the boy's hobbies.
It's also great if the gift is not only interesting or cool, but also useful. Board games, books, sports activities, and various scientific experiments are suitable as practical gifts.
1. Basketball 3D Illusion
This gift is ideal for boys who are fond of basketball. It is essentially a 3D image projector with 16 artistic colors.
Besides, the image of the basketball can spin and flicker, creating an amazing optical illusion effect. Your son can use it as a night light or decorate his birthday party.
2. Portable Travel Telescope With Smartphone
Telescopes for children come with compactness and low weight, which allows the child to cope with this technique independently.
There are also maps of the starry sky, training disks, and an atlas in the set, which helps study the sky and allows the young astronomer to discover new amazing objects.
3. Razor A3 Kick Scooter For Kids
For 11-year-old children, a scooter is useful. Doctors recommend using it in moderation with no more than 1-2 hours a day.
Riding a scooter can bring certain benefits for your boys. It will improve coordination of movements, balance, and muscle tone of muscles.
4. Echo Show 5 – Smart Display With Alexa
An 11-year-old boy has a clear perception of his personal life. It's time for you to empower him to manage his daily activities on his own.
Echo Show 5 allows him to organize everyday must-dos easily. It will notify him when to do it and what to do.
It also provides an infinite source of entertainment for hours of watching videos and news. If you're away, your son will want to call you using Alexa's video calling feature. In that way, you can check if your child is okay.
5. Holy Stone Gps Drone With 1080p Hd Camera
At the age of 11, the boys are already ready to work with drones on their own. Don't refuse his request to own a drone because a child will receive plenty of benefits by flying a drone. They consist of:
Development of fine motor skills and coordination.
Improvement of reaction and orientation in space.
Increase attention.
Training vision.
A huge charge of positive emotions and a smile from ear to ear.
Plus, the drones themselves are made of lightweight and durable ABS plastic. That material allows drones to survive after falling without any special consequences for themselves and others.
Some models come with audio and video recording functions. It will record every movement in its flight path and stream the video to your smartphone.
6. Turbo Electronic Remote Control Robot with Voice Command
Turbo robot is a fast-moving robot with a fast-talking mouth, and this guy is full of personality. It is full of personality!
With a can of cool sound effects and expressive shining eyes, Turbo loves to joke and make you laugh. You can use Turbo's "voice command" feature to make it spin, dance, explore, or even make it tell you a joke!
7. Solar Robot Kit Learning Science Building Toys
A robot is a project for a child that may be associated with mathematics and natural sciences, linguistics, or even music.
Thanks to the games, the child becomes more creative and courageous in the embodiment of ideas. These engineering kits come with the rich technical functionality of robotic constructors. So, they offer an unlimited number of possible tasks for assembled robots.
In the process, all children make mistakes, and robotics teaches any mistakes to accept, draw conclusions, correct the process, and look for new approaches to solving problems.
8. HearthSong Light-Up Air Hover Soccer Game
The glowing and rolling round balls on the ground will give your little boy moments of relaxation after school. While moving on the floor, it will emit blue and red flashing lights that will delight children.
You can play this ball on any occasion. But we recommend playing it in the dark to increase the challenge and fun factor.
9. Bear Archery Brave Bow Set
Archery has a very beneficial effect on vision. Since ancient times, arrows have been particularly vigilant, and this is not surprising. Training the lens and eye muscles while shooting is a good prevention of myopia.
During shooting, the muscles of the arms are maximally involved and, first of all, the back. Also, while the boy processes a shooting, his pectoral muscles are actively working. In general, archery is very good for posture.
Archery sports bring joy and benefit, But it is necessary from the very beginning to teach the child discipline when handling small arms.
Related Post: Best gifts for 10 year old boys
10. Pop-A-Shot Official Home Dual Shot Basketball Arcade Game
Get ready to enjoy hours of fun with the Basketball Arcade. You can invite your friends and family for the best experience or try one of eight built-in basketball arcade games for a new twist on the classic game.
It features eight different game modes. By challenging a friend or family member with one of 8 game options, you will be able to see huge improvements in your qualifications in basketball.
11. Interactive Air Hockey Table
Air hockey is a dynamic board game. It is a three-dimensional structure in the form of a playing field with sides.
Washer gates are in the form of narrow oblong holes. So, you can hammer the puck using specially designed air hockey bits.
This game is very interesting. And not only for a child but also for an adult. Buy it for a child, and you will play. It helps your boy develop speed and reaction and get better at navigating in space.
12. BlissLights Sky Lite – LED Laser Star Projector
BlissLights Sky Lite fills your room with the light of the galaxy. The twinkling stars in the mysterious sea of clouds of the universe make every child happy.
The magical light is not only stunningly beautiful but also provides an amazing relaxing effect. The night will fall; it will be the time for the boys to get into the dream of flying in the universe.
13. Waterproof Outdoor Speaker
Outdoor wireless speakers deliver all the sounds you want for partying, camping, the gym, or the beach. The smooth rubber jacket protects the product from impact, suitable for use by children.
The child can use this speaker for many purposes. He can connect it to his phone to listen to music and watch movies with clearer sound than the phone sounds. Sometimes this is also useful to use in online lessons when he doesn't want to use headphones.
14. Apple AirPods with Charging Case
We believe every kid aspires to own AirPods. These small headphones not only offer good quality sound but also attract children with their elegant appearance.
Headphones give you a superior sound experience with superior noise cancellation technology. It allows you to listen to music in noisy places like on the bus or subway station.
15. Boy Craft Catapult Wars by Horizon Group USA
Horizon Group USA's catapult is a fun toy for 11-year-old boys, inspired by weapons that often appear in antiquity movies. He can assemble and decorate his catapult himself.
After that, a fun fight between two friends will bring hours of good laughs. This toy teaches children how to make and operate one of the common weapons of their ancestors. During play, children also develop reflex and observation skills.
16. DIKASHI Adjustable Roller Blades Skates
Joy and excitement – what can you not see in the eyes of a child "flying" on rollers. This activity is not just one form of active pastime in the fresh air.
Roller skating positively affects the developing child's body: it strengthens the muscles, improves a sense of balance, and burns calories for a fit body.
This sport is also a great family leisure option that brings the child and parents closer together.
17. 4M Tin Can Robot – DIY Science Construction Stem Toy
As you know, technical competencies and knowledge in exact sciences are important for kids.
STEM toys will help acquaint children with the world around them, develop an engineering style of thinking, and teach children how to work in a team.
Your boy can make a robot from any tin can. This game gives children awareness about waste recycling and environmental protection.
18. Nintendo Switch with Neon Blue and Neon Red Joy‑Con
This device allows a child to play different games with three modes: TV, tabletop, and handheld. It would help if you remembered that children must develop both physically, mentally, and spiritually.
You need to select the games correctly to contribute to thinking, memory, and creativity. In addition, various educational games help children master reading, counting, writing, and other skills.
19. 4M Table Top Robot – DIY Robotics Stem Toys
Robotics for kids – a universal gift for learning and development. This Robotix has made sure that they can choose the right kit for each age group.
With the help of such kits, children can easily design their robots, set behavioral patterns, and translate any of their ideas into reality.
It is an interactive game format of classes that arouses great interest in the child and stimulates complex mechanisms.
Related Post: Best gifts for 9 year old boys
20. Altair AA102 RED RC Boat for Pools or Lakes
Who among us in childhood has not dreamed of mechanical toys? For that reason, it looks more like a radio-controlled boat has become an excellent gift, not for a child, but for us, for parents.
Summer, heat, fresh air, countryside, and most importantly – the river is nearby. The river is small, calm, and very shallow. So the conditions for your boat racing races were the best possible.
The Altair Boat can reach speeds of up to 18.6 mph with a powerful motor. It's easy for a kid to handle it and rides it through small waves for about 12 minutes.
21. Funsparks Magnetic Dart Board Game
Who has not come across the concept of "darts"? The game, in which darts hit a round target with a hand movement, is popular worldwide.
And if earlier the game was available only to adults due to the presence of dangerous elements, then in the modern world, such a concept has spread to children.
Characteristics of Kids Darts is a game created especially for children, where they throw safe darts at a target hanging on the wall. Despite the completely identical meaning of the game to an adult, children's darts have their differences.
Children's darts are not used with sharp ends. There are three main types of children's darts: magnet, Velcro, and electronic.
22. Waterproof Camera Web Camera
This camera comes in a mini size, and is suitable for children. It has a vivid screen with a 4K display that allows your kids to develop their imagination and discover beauty.
It's smaller than a smartphone, so you can easily attach it to a helmet and wear it on your arm to shoot all details on the go. Electronic Image Stabilization technology limits shaking effects to produce stable videos.
23. Wireless Karaoke Microphone System
Karaoke microphone is an interesting toy that both adults and children alike. A kid can develop musical abilities, voice, and hearing with this toy.
You do not need expensive and complex equipment. All you need is a karaoke microphone and a smartphone.
24. Wireless On-Ear Headphones
Headphones suffer more often than others – broken wires, lost pads, and crack headbands. Naughty boys are bound to end the life of a headset in no time.
Therefore, we will tell you why wireless headphones for children deserve special attention. The best option for a young user is wireless headphones with a headband.
They can have open and closed ear pads; the best choice is an overhead model. It leaves the ears open and allows the user to hear what is happening around. It is important for the child from the point of view of safety of use.
Related Post: Best gifts for 8 year old boys
25. Interactive Self-Balancing Robot
Different from ordinary robots, the self-balancing robot brings you new experiences. It supports more than 20 challenges for kids to play with friends and family.
You'll find brain training games, like Padlock, Reaction Game, Shake Shake, and Color Match. Besides, you can also experience the Pancake Stack and Basketball Versus.
26. Spikeball Standard 3 Ball Kit
Spikeball standard three ball kit is a competitive game for four people. It is suitable for playing in group activities on the school campus or the lawn.
Your son can bring it to school to play with his friends during recess. This game teaches 11-year-olds to reflexes, teamwork, fine motor coordination, logical thinking, and predict future situations.
27. 4M Doodling Robot
Children are easily involved in a robot engineering process because creating a robot on their own is extremely interesting.
If your child shows a sincere interest in robotics, he will master many useful skills, become more independent, active, and believe in himself.
This toy is a robot that knows how to create an art product. Just adjust the angle and height of the crayons, and you will get unique pictures.