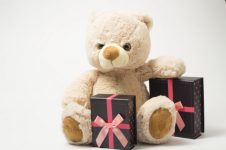 Best Gifts For 19 Year Old Girls in 2023
Buying a gift for your beloved is never a breeze. Indeed, even a small gift speaks a lot. It tells that you're willing to devote time and effort to pick a meaningful present to cherish every jolly moment with your loved ones.
Don't worry if you can't manage to choose a suitable gift among thousands of gift options out there. We know teen girls so well, and therefore, our handy gift guide on the 27 best gifts for 19-year old girls will be of great assistance.
Top 27 Best Gift For 19-Year-Old Girls in 2023
She's no longer a child but a young woman now. At the very last point of her teenage years, she loves something adorable yet mature and practical.
And please remember, not all young adults are the same. You should involve your girl's hobbies in the shopping decision as well.
1. Girl's Charm Bracelet
A bracelet is cute, charming, yet not too attention-seeking jewelry for a teen girl. One with an engraved "19" surely will be an inspirational birthday gift for your daughter and a nice way to celebrate this important milestone in her life.
The bracelet's material is premium 316L stainless steel, so it never gets tarnished or changes color. Also, its nickel-free and lead-free features make it pleasant to touch the skin and suitable for daily wearing.
2. Deweisn Tri-Fold Lighted Mirror
A girly mirror is an indispensable presence in every teen girl's room. She needs it every time she puts on makeup, dresses up, or takes a mirror selfie.
This mirror has built-in LED lights, which allow easy ON/OFF brightness just by a touch sensor switch. Your girlfriend can do things in front of it in dim light without interrupting others' sleep.
3. Fitbit Versa 3 Health & Fitness Smartwatch
Don't worry if your 19-year-old daughter wants to start an independent life without you besides. Trust her, and gift her a fitness managing device to lessen the worry about her general health.
This smartwatch can track the user's heart rate accurately and show her nightly blood oxygen levels. She can see if there's any indication of significant changes in her wellness. So, it's a good way to, in part, take care of your girl from afar.
4. Echo Dot Smart Speaker
A functional speaker will make your girl's home-alone life easier. The speaker bears a sleek, lightweight design and delivers fresh, balanced bass and crisp vocals.
Also, the user can check the time, timers, and alarms on the LED display. It's also possible to ask it to play a joke, answer questions, play music or news, and more.
More importantly, the speakers can control the user's smart home. They can simply use their voices to turn on the lights, lock the doors, and adjust thermostats with compatible devices.
5. KODAK Mobile Photo Printer
With a mini photo printer, your friend can save every jolly moment in life in real-time without making plans to print the next day.
Kodak's product connects to Android or iOS smart devices so that she can print photos instantly. The brilliant zero-ink technology eliminates the use of costly ink, toner, ribbons, or cartridges and ensures beautifully detailed results.
The beauty is the prints are resistant to rip, moistures, tears, and smudges. Thus, the pics can last you for years to come.
6. Fisher Space Pen Bullet Pen
A college student should always need a good pen in her bag. It's a good idea to give her a gift as a close friend.
This one features a steel and brass construction and comes in a broad range of colors, finishes, and tungsten carbide ballpoint tips.
Your girl would feel happy using such a precisely assembled and durable pen to write down her bold ideas.
7. Stainless Steel Tumbler
A tumbler gift keeping beverages hot or drink for a long time shows your care and love toward your girlfriend.
This one can last the icy-cold water for up to nine hours and scalding-hot water for three hours or more. Also, the grade stainless steel finish is straightforward to clean and remains glossy over time.
8. Winter Beanie with Bluetooth Headphones
Any high-teen girl will love the combination of tech and style. Made of 100% soft acrylic, this dual-knitted hat keeps your daughter's head warm while allowing her to enjoy music without the need for additional headphones.
The model's stereo headset delivers excellent sound quality and matches the style so well. This one will bring extra comfort to your girl's head during freezing winter and be fantastic wear for outdoor sports or street-style outfits.
9. iWalk Portable Charger
Girly teenagers aged 19 will be excited about this charger's design. The lovely color, pleasant texture, and smooth surface make it so unique and elegant. Also, the lipstick size fits nicely into a purse or pocket. So, whenever your girl needs a charger, it's right there.
This model includes an upgraded capacity of 4500 mAh – large enough to charge an iPhone fully.
10. Personal Alarm
A girl could do with a self-defense alarm just in emergencies. It'll generate loud sounds of 140 dB to grab people's attention even from afar, which effectively scares attackers away, and your girl can seek help when in danger.
This keychain also features a LED light, allowing girls to move in dim light conditions. If your pretty girl likes night-running, hiking, camping, or walking dogs, security is always an inseparable tool.
11. UGRACE Laptop Backpack
A helpful backpack will carry the whole world for your girl. She can put her laptop, mobile phone, water bottle, and other necessities in it.
Ugrace used premium tear-resistant fabric and high-grade polyester lining to manufacture their products, hence a lightweight yet durable build.
Plus, the bags appeal to young girls with the simple, vintage, and elegant appearance, which applies well to daily school and outdoor sports.
Besides, they provide the user with generous storage of 11.6'L x 17.2'H x 5.4'W inches and five roomy compartments. Your friend can carry things comfortably and sort out gadgets easily.
12. All-new Kindle Oasis
Reading is a relaxing activity to do in your spare time. Should the girl fancy detective books, novels, comics, or any kind of book, a kindle gift would make her over the moon.
This device comes with a 300 ppi flush-front display and an adjustable warm light so that the reader can shift the screen shade as per her preference.
The plus point is the waterproof feature allowing your girl to read anywhere, by the pool or in the bath.
13. Cosmetic Bag
Unlike adult women who only buy what they need, teen girls often have tons of teen makeup kits and skincare staples. A cosmetic bag will help store her stuff carefully and neatly.
The impressive point of this product is the double-sided printing "The Princess is 19.' Isn't it so sweet? You want to cheer up the moment your girlfriend turns 19 with her, and these words speak all.
She can surely use it for an extended period due to the bag's durability and not being easy to fade.
14. Fujifilm Instant Camera
A mini instant camera is not only a vital tool to bring along on trips, but it is also dynamic and stylish jewelry to hang on your neck. Particularly, girls will be nuts about this model's unique color, which gives it a very girl-crush vibe.
The camera has a slim body with a transparent ring lens. It automatically picks the ideal shutter speed depending on the environment, hence the ability to capture bright subjects and bright backgrounds, even in poorly light scenes.
15. AFROG Desk Lamp
A nice way to silently support your girl's working or studying is to gift her a multifunctional desk lamp.
Afrog's device is highly portable and easy to move from place to place. Also, it offers a wide range of brightness choices and eye-caring technology, ensuring no flicker lighting for eye-healthy night bedroom reading.
16. Xenvo Pro Lens Kit
Your high-tech friend will treasure this present due to its great compatibility and excellent quality.
Its true angle of 0.45 inches wide captures 45% more photos with every snap and leaves no dark corner. The user can see all the details and intricacies in each picture with precision focus.
Don't worry if the light is not as bright as expected; the GlowClip LED light will clip anywhere to illuminate the subject with warm stable light simultaneously.
Related Post: best gifts for 18 year old girls
17. Dragon Touch Digital Picture Frame
A digital picture frame is such a sweet present for your girl, which will remind her of every cozy moment with the family.
This Wifi photo frame can update her life moments with other family members wherever she is, so even if she's far away from you and your parents, you will feel like she's right close to you.
18. Ear Wax Removal
You want to take care of your daughter's everything, even the most minor stuff. Another gift idea to consider is ear wax removal, which is surprisingly crucial concerning daily hygiene.
This wireless ear scope delivers a wide-angle of 360° and a Video Image of 1080P, providing a large coverage view for easier ear wax removal.
It can work with all iOS and Android devices and work for up to 30 days, thanks to a great-quality 250 mAh lithium-ion battery.
Related Post: best gifts for 17 year old girl
19. Hair Dryer
How can a girl's beauty care toolbox be without a hairdryer, alright? This professional device with the negative ion frizz reducer will care well for your girlfriend's hair.
The dryer releases 20 million negative ions per minute, preventing heat damage, adding shine, and making her hair more moisturized. It can meet various hair demands of all lengths and types: curly, thin, thick, or straight.
If your girl is into appearing new every time you guys meet, this styling tool will help her do it precisely and safely.
20. Lenovo Laptop
A good-quality laptop is an essential tool to support your girl's working and studying. How generous you are to gift her such a valuable item. After all, it's love.
Lenovo's ThinkPad X1 Carbon Gen 9 model delivers a vibrant, high-resolution graphics display with the full HD plus quality and anti-glare feature.
Plus, it stands at the dimensions of 12.4 x 8.72 x 0.59 inches, which is pretty space-saving. Your girl can comfortably place it on a small working table together with pens, notebooks, and a lamp.
21. HACOOL Necklace
A customized gift for your girl's birthday is also an interesting option. You can base on her personal preference to choose the chain's length and color. A lovely necklace with her name on it – what can be more meaningful?
The letter will be elaborately engraved to bring out the most beautiful jewelry for your pretty girl.
22. Vlando Jewelry Box
You can find jewelry boxes in many colors, sizes, and designs for your loved one on Vlando's website. This elegant and classy box will add a charming view to your girl's makeup table. We bet she'll fall in love with its appeal right at first glance.
The box bears a medium size of 9.1 x 6.7 x 6.3 inches, which is perfect for teen girls who don't have too much jewelry.
Related Post: Best gifts for 16 year old girls
23. Portable Blender
Is your friend a big fan of juices and smoothies? Buy her a portable blender.
This personal blender includes an integrated 4000 mAh rechargeable battery, so she can quickly charge it using any power bank or USB power source.
Also, it is 150W rated motor and effectiveness will generate juicier and fresher cups for the best drink enjoyment.
24. MAXSOFT Scalp Care Brush
The scalp massager's soft silicone bristles will stimulate the blood flow to the scalp and oil glands, ensuring deep cleaning and exfoliating the scalp.
It's a brilliant idea to give your girlfriend this stress-releasing kit. She can relax her scalp muscles and feel wonderful after a tiring working day. And love you more for sure!
25. Hawaiian Shaved Ice and Snow Cone Machine
If ice drinks are your girl's favorite, this shaved ice maker is the way to go. It excels at making snow cones, slushies, margaritas, snowballs, and more.
The beauty is that the machine is straightforward to use. Your girl can prepare cool treats for a scorching summer day quickly and enjoy a cool pool party with friends.
26. FOREO LUNA mini 2 Cleansing Brush
What you may not know is that a cleanser is never enough to get rid of all dust and oil on your skin. That's why we, particularly teen girls who have sensitive skin, could do with an efficient face cleansing brush.
The LUNA mini two will remove 99.5% of oil and dirt, unclogs pores, dead skin cells, and makeup residue. Your girlfriend would feel like her skin is refreshing after cleaning her face with this tool.
27. Logitech Wireless Mouse
Logitech pebble offers outstanding simplicity with a very adorable design, which will make your 19-year-old daughter thrilled on her birthday.
The mouse feels great in hands and is simple to move around. Plus, the ultra-quiet scrolling and silent clicks provide the user with great noise reduction on the click sound.