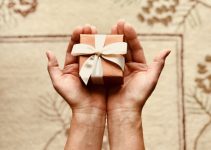 Top 27 Best Gifts For 16 Year Old Girls – Which One Should You Choose?
Beauty presents such as nail polish, face masks, shaving cream, jewelry, and other self-care items are typically valued by a 16-year-old girl. Alternatively, one teen girl may enjoy music and would appreciate a musical presentation.
In this article, we have compiled a list of the best gifts for 16-year-old girls. These gifts will be useful hints to help you show your interest in this girl.
Let's check it out!
The Best Gifts For 16-Year-Old Girls in 2023
Here are 27 perfect options for teenage girls with different styles.
1. Singing Karaoke SML385UBK
With 54 LED disco lights, this machine will assist your 16-year-old teen girl in creating the ideal party environment. It comes with a pair of RCA connections to make connecting it to your television as simple as possible.
There's also a USB connection for you to capture your visitors' incredible performances. Teens can enjoy the music straight from their USB drive or record and publish your performance! An integrated speaker in the wood cabinet contributes to a strong sound.
2. Sofia + Sam Multi Tasking Lap Desk
This lap desk can hold up to 20-inch laptops. It is excellent if she has a bigger laptop or prefers extra room for work materials. It also includes a handle that makes it simple to carry around.
Moreover, it is just four pounds, so she won't feel too weighty or hefty after a hard-working day. Any bed, couch, or chair would benefit from the Sofia + Sam laptop tray. From the bed, a 16-year-old girl may dine or work with the tray.
3. Gotrax GXL V2 Electric Scooter
It's trendy and contemporary, and it's available in three colors: red, white, and classic black. The foldable mechanism of the GXL V2 is simple.
The handlebars are pretty pleasant to hold. Also, it features a well-placed accelerator and brake controls on opposite sides for quick access.
It also includes an LED display that shows the current speed and traction battery. This scooter is suitable for 16-year-old girls and above or those under 16 with parental authorization.
4. LE Dimmable LED Desk Lamp
It is a stylish and attractive night lamp that you or your girl can use for reading, resting, or sleeping. It has five brightness settings and four lighting styles.
Aside from that, the USB connector will aid in the charging of cell phones and notebook batteries. It's composed of high-quality materials, and you may tilt or rotate the base or head to fit your needs.
5. LIFX 1100-Lumen Light Bulb
LIFX light bulbs combine several technologies into a single bulb. LIFX bulbs feature "smart" characteristics, which means they can link to the Wi-Fi network of your house.
You can use voice or a smartphone app to operate it. LIFX smart LED light bulbs also provide desired LED lighting innovation. That means they are energy-efficient and do not get too hot to touch when running.
6. BOVKE Portable Speaker Case
BOVKE is a high-quality speaker anti-shock enclosure. It is dustproof and waterproof. In addition, the built-in isolation layer in this elegant speaker case makes it easy to store your micro USB, charging cable, or adapter.
It has a very ergonomic grip that makes mobility on the move handy and straightforward. Take the music with her whether she goes camping, traveling, or hiking.
7. Zink Printer KODAK Digital Camera
This camera can compete with other instant film choices by offering a similar experience at a cheaper cost. The Kodak Step is a seductive idea on paper, old-school fun instead of excellent picture quality or photographic versatility.
The Kodak Step is a fun camera for taking photos and operates well. It's a reasonably good idea for whole family time holidays, parties, wandering around the city, and whatever else.
Related Post: best gifts for 15 year old girls
8. Nixplay 10.1 Inch Digital Frame
She'll love this Nixplay W10F digital photo frame. It has a wide range of intelligent functions, and you may customize it to your liking.
Adding photographs is simple whether you're using the app, social network, or email. It also allows for numerous users who only need to access email or download apps.
As a result, it's an excellent pick for the entire family. You can keep each other up to date on what's going on in your life in real-time.
Related Post: best gifts for 14 year old girls
9. Trademark Games 72-CB340
You can choose how your morning begins with this Target Recordable Alarm Clock. This alarm clock is a great gift for any teen girl since it is entertaining and straightforward.
Adjust the 12-hour timer to your preferred wake-up time, set a song or a customized alarm to wake up to, and you are good to go to a restful night's sleep. Aim and shoot at the target when your alarm goes off to gain 5 minutes of extra sleep.
10. Fitbit Inspire HR Heart Rate and Fitness Tracker
The Fitbit HR is one of the thinnest and hence sleekest-looking fitness trackers available right now. It is one of Fitbit's most appealing trackers, and it's noticeably lighter and slimmer than other previous versions.
For this tracker, you may choose from black, white, or lilac. Its integrated silicone bands are standard, but you may upgrade to additional straps if you want a more professional or unique style.
11. Srhythm NC35 Headset
Are you seeking the bass headphone for under $1000 with active noise cancellation and long battery life? Go no further than the Srhythm NC35 headphones.
In this price range, it's a fantastic ANC headphone. The sound quality is excellent, and you will find it pleasant to use for extended periods.
It has several features, including noise cancellation, hi-fi audio, deep bass, a long battery life, a built-in microphone, and more.
Related Post: best gift for 13 year old girls
12. Feminist Vote Shirt
This cotton crewneck shirt, which comes in black, white, and a variety of other colors, allows you to personalize while urging others to vote.
You get to choose a term up to 15 characters long to fill in the space for the opening line on it. The message can appear at the center of the shirt or on the chest area for more personalization.
Let's take you and your 16-year-old girl to a new pair of urban outfitters and go vote!
13. Hum by Colgate Electric Toothbrush Kit
Hum by Colgate is an intelligent toothbrush on the market, especially considering the price. The hum will far exceed your expectations, and one of the main reasons is the smartphone app.
She'll love this well-thought-out and well-designed item. A variety of user controls and adjustments are available. It is interactive and entertaining. There's a point system in place to encourage the user to brush more thoroughly and regularly.
14. AOCINA One Teen Girl Purse
This cute little crossbody purse is a one-of-a-kind design. It's a fantastic present for cool girls since it will draw a lot of attention and get praise from others.
In addition, this compact crossbody bag is ideal for everyday usage, travel, and parties when you need to carry a few modest essentials.
It has enough room for a 6-inch smartphone, glasses, cash, credit card, keys, lipstick, and more. If you're looking for a cute purse with a lot of space, go for this must-have item.
15. Logitech G920 Racing Wheel and Floor Pedals
The Logitech G923 has a similar appearance to the G920 but with some significant upgrades. It has Trueforce, a more sophisticated type of feedback that is necessary for each game.
It is a haptics-based technology that sends the road's sensation to your palms and fingers. Logitech has also improved its brake to provide more gradual friction on the depression.
16. DC Wonder Woman Sock
Wonder Woman may utilize an invisible aircraft to fly, and you'll be anything but maybe hidden in these fantastic 3D Wonder Woman High Socks! Therefore, after trying to pass in these entertaining socks, change your socks and save the world!
17. BESTOPE Makeup Vanity Mirror
With a tri-fold head and its 21 LED lights, you can see your makeup from profile perspectives, this cute cosmetic mirror with LED lights is a formidable rival.
The magnification is beneficial for all of the detailed tasks. Another fantastic feature of the mirror is that you can run it with either corded or cordless power. Moreover, if you get this gift at any holiday, a jewelry stand will come with the package.
18. Lenovo Chromebook C330
She'll love by impressive feat with the C330. This Chromebook can provide you with the passion and soul of an OS.
This must-have Chromebook has advantages in all areas, lasting around 10 hours on a single charge, being light enough to take around every day, and having plenty of capacity for applications and offline material for work or pleasure.
19. Fisher Bullet Pen
The Fisher Bullet Pen comes in a transparent plastic display box with foam fashioned like a moon rock nestled inside. The pen has the appearance of an antique in a gallery. Also, the meticulous detail inside the package foreshadows the pen's outstanding performance.
The matte surface gives a firm grip, making it simple to handle the pen in your hand and decreasing hand fatigue after long periods of writing.
20. Apple iPad Pro
Apple Ipad Pro is a great gift to surprise your 16-year-old girl with the M1 chip's massive capability. The Ipad's visual performance is outstanding, powerful and deep, vivid and genuine, thrilling and subtle.
Meanwhile, sound quality is outstanding through the speakers, especially with standard Bluetooth or corded headphones.
21. Kindle Oasis
The Kindle Oasis has a new color-adjustable light integrated into it to make it lighter and quicker. It's waterproof and can play any Audible audiobook through Bluetooth speakers or headphones.
The Kindle Oasis is the highest-quality e-reader on the market right now, with a large, high-quality, adaptive brightness display. There are also several interesting settings to select from.
22. Fujifilm Instax Mini 9
Instax's classic disposable camera has been around for thirty years, which is famous for anybody keen on instant photography. And the Fujifilm Mini 9 is the most user-friendly ever.
It is affordable, simple to use, and without unnecessary features and attachments. It cares more about capturing the moment than about presenting lo-fi looks. Therefore, this camera appeals to both those who are new and those who are well-versed in it.
23. Emoji Pillow
This expressive pillow is 100 percent polypropylene, soft, and super comfortable. The quality is excellent, so it is ideal for toddlers and any teenage girl.
With soft material, comfy design, and easy-to-clean yellow fur, this cute product is worth buying if you are searching for a super comfy pillow to rest the back on.
Also, this item is an attractive choice for beds, couches, chairs, and motels. The cushion has a puzzled emoji on it, which makes for a nice chuckle.
24. Adecorty 40 LED Photo Clip Fairy Lights
Wow! This perfect gift is a beautiful idea for decorations and a childhood bedroom! It's time to say goodbye to conventional string lights in favor of more convenient, high-quality lighting.
This huge hit serves as a good gift for recalling one's unforgettable and lovely memories, as well as a showcase for photographs or artworks. It brings memorable images to your simple white wall.
25. Hover-1 Hoverboard Scooter
The Hover-1 hoverboard is a perfect gift for those who want a completely safe hoverboard without frills. It features two powerful engines that provide it a range of 12 miles and seven mph of speed.
Overall, each battery charge provides roughly 4 hours of riding time. This hoverboard is a fantastic choice for 16-year-old college students who want a fun way to travel around campus.
Also, anyone who does not require a board for lengthy commutes will fall in love with this important stuff.
26. Oriya Necklace Bracelet
This item is the ideal gift for 16-year-old teen girls who need some motivation or confidence. It will be perfect if you get a separate jewelry stand.
Allow these words to serve as a reminder that you will succeed. If you put your heart and mind to it, there is nothing you cannot achieve. Always believe in yourself, and you will follow.
27. Apple Watch Series 3
The Apple Watch Series 3 builds on its same predecessors' capabilities by adding new fitness and health functions. If you give your 16-year-old girl this smartwatch, she will surely be delighted and impressed by this gift.
It's significantly more simplified than any Android watch in terms of user experience. So, if you cannot leave the house without accessing your email, the Series 3 is one of the big bucks.