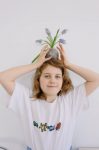 27 Best Gifts For 13-Year-Old Girls
What are the best gifts for 13-year-old girls? Your children are growing up day by day. 13 is an essential mark because they turn into teenagers.
Teen girls must change their thoughts and behaviors a lot during this time. As parents, you need to learn more to understand your beloved kids.
Choosing the right gift for them gets more challenging as a result. What does my daughter like? Should I please her desire or encourage her to do something?
This article will suggest the 27 best gifts for every 13-year-old girl. However, remember to consider your little girl's hobby as well.
Top 27 Best Gifts For 13-Year-Old Girls in 2021
It's time to have a closer look at the 27 best presents for your 13-year-old daughter. Keep scrolling and note your favorite.
1. Hansong Bluetooth Mirror
Most teen girls care so much about their appearance. Giving her a mirror as a gift can help her take care of herself better.
What is special about this Bluetooth mirror? It can wirelessly transfer music from any compatible device. Your daughter can access makeup tutorial videos on Youtube or even make a phone call during her makeup time.
There's also a USB charging jack so that she can charge her phone.
This all-in-one mirror can serve more purposes than a traditional makeup tool.
2. All-new Echo Show
This special gift can carry multiple tasks at a time. First, it can work like a smartphone. Your 12-year-old daughter can use it to access tons of applications to watch movies, listen to music, take photos, or even play games.
Moreover, the machine can be her nightstand since it features compatible lights. She may feel free to control the smart home with her voice, thanks to this interactive display.
3. I HAYNER Backpack
A cute backpack will accompany your lovely daughter on her roads. Whether she's going to school, camping, or hanging out with friends, this gift can fit.
I HAYNER backpacks are available in 14 different colors. You can choose your daughter's favorite one. The simple yet elegant design also makes its appearance more stunning. Premium leather is another big plus for this option.
4. Pet Speakers For A Teenage Girl
Regular speakers cannot show off your daughter's personality. Instead, choosing an animal-shaped device is a more exciting idea.
The speaker is compact, so your daughter can bring it anywhere she goes. The wireless connection makes its uses much simpler.
Also, this intelligent tool can activate cameras remotely – such an awesome gift for technology fans.
5. Apple AirPods
If your daughter doesn't like something cute, choose something all the rage for her. Among the headsets available on the market, Apple Airpods appear to be great gift ideas.
Your little girl is willing to spend a whole day listening to music if you give her this gift. The active noise canceling technology brings her a much more advanced sound experience.
6. BONAOK Wireless Microphone
A wireless microphone will complete your daughter's music enjoyment. This karaoke wireless microphone's outstanding design is ideal for one's hand. It may make your daughter feel much more comfortable.
The excellent Bluetooth module built-in can also act as a player, recorder, and speaker. It is compatible with a variety of singing apps.
This product comes in ten color choices. You may find it easy to get the one that your daughter may like.
7. Kleancolor Nail Polish
Nail is one of the essential parts that a girl cares about a lot. If your little daughter always wants to look her best, don't let her go outside with her nails unpolished.
A set of Kleancolor nail polish includes 12 different metallic colors. All of them are long-wearing and come from high-quality ingredients. You don't need to worry about the toxic smell from those beautiful gifts.
8. REVLON Hair Dryer And Volumizer
Every haircut necessitates the use of a hairdryer. It effectively eliminates moisture from your hair, resulting in an overall natural shape to work with. A hair dryer can be a good option if your daughter wants more control over her hairstyle.
This product also includes a volumizer to keep the air inlet clean regularly. This feature can remove hair from the brush after each use and prevents the cord from wrapping around it.
9. Fujifilm Instax Mini Camera
Let your little girl capture her favorite moment and save it for a future look-back.
Rather than working with a whole close-up lens addition, your 13-year-old daughter just needs to press the lens barrel until the "selfie mode" appears.
Your little girl can feel free to choose the suitable shutter speed according to her lighting. This feature makes it simpler than ever to eliminate over and underexposed shots.
10. EWA Mini Bluetooth Speaker
EWA is small yet robust and stylish. This mini speaker is simply small but capable of releasing crystal-clean sound.
The sound produced offers excellent bass and room-filling loudness via a high-overall performance driver along with a passive subwoofer.
Its compact size allows your little girl to enjoy her music while on the go—such a perfect choice for hiking, beach, or any other outdoor activities.
11. Beats Solo3 Wireless Headphones
Music is a common hobby for every 13-year-old girl. She will never have enough tools to live in her music world. A pair of Beats Solo3 headphones will enable her to immerse herself in that world deeper.
This headset is compatible with all Android and iOS devices. A teen girl may also like the comfortable ear cups anytime she's wearing them,
One big advantage of this product is its long-lasting battery power. Five minutes of battery charging allows your little girl to listen to music for 3 hours.
12. Beetles Nail Polish Kit
This gift is another nail kit but comes in more tools, especially the LED lamp one.
The nail art kit is available in nude pink glitter. There are six shades with two that have some sparkle on them. Every shade in the kit looks stunning in its own way. Your little girl will love it for sure.
This nail kit also includes a UV LED light which works as a nail dryer. The nailing job then becomes much faster and easier.
13. Victrola Suitcase Record Player
If your young lady is getting bored with her speaker or headphones, this record player is a great gift idea. It will raise her listening experience to the next level.
The classic look combines with the convenience of advanced technology, making this gift perfect for vintage fans.
There are several ways for connection options within this product. Your teen girl can choose to connect with an external speaker via the RCA output or opt for the non-Bluetooth devices.
14. Wekapo Inflatable Lounger
There are some simple tools, but they work well to serve our purposes. This inflatable lounger is an outstanding example.
This option is simply a soft sofa to sit on. What makes it stay in this list is the comfort it offers for users. If your 13-year-old daughter sits on this lounger, she will be so satisfied and comfortable that she doesn't want to move.
The Wekapo lounger also includes a headrest and a stable foundation. All of these features contribute to the most relaxed experience ever!
15. Mini Color-Changing Cinema Lightbox
This cute LED light can shine in every corner of your daughter's room. She can use it to convey motivational quotes or express her feelings. As a result, this gift isn't only a lightbox but also a reflection of our little daughter's thoughts.
There are three modes to present the message. Your daughter can adjust the letters and the light color for her mood as well.
16. LED Fairy Lights
Twinkle lights are the essence of an artistic & warm sense. Your daughter can design her teenage room with her fun moments.
When she is in bed, she may use the controller to choose from eight different light display patterns and regulate the brightness of the lights.
For portability, the LEDs are battery-operated, so you can place them anywhere without worrying about a power outlet. Both outdoor and indoor use is possible thanks to the waterproof battery pack.
17. Vlando Jewelry Box
This fantastic gift is an excellent option for teen girls who don't have much jewelry in their collection. With its finely crafted princess design, it's the perfect gift for your favorite princesses.
The distinctiveness of Vlando goods comes from each craftsman's painstaking fitting of the leather and polished of the skeleton. Even if you remove the box, there is no need to worry about dust.
18. The Princess Makeup Kit For Teenage Girls
Teenage girls start to put on makeup when they attend special events or hang out with their friends. Don't let her put anything on her face without knowing its origin. Her skin is susceptible. As a result, high-quality makeup is essential.
Teen cosmetics special gift baskets are fantastic gift ideas that almost every teen would appreciate. There are no harmful components in this kit, and only excellent details are present.
19. Stainless Steel Aqua BlueTumbler
These tumblers are personalized gifts. Just imagine that everything is ready for your daughter's 13th birthday party. It's only a matter of finding a present that'll make her scream with excitement. This customized "Happy 13th Birthday" tumbler is sure to make her smile as she opens the present box.
With its double-walled construction, the tumbler will keep your beverages cold until the last drop.
Related Post: Best gifts for 12 year old girl
20. Sterling Silver Necklace For A Teen Girl
If you want to tell your little daughter that she's precious, give her something precious. Jewelry is a perfect gift idea.
This Sterling Silver product is a personalized gift since you can customize it by choosing a letter to be printed on the pendant. You may also choose whether it's rose gold or silver. No matter your decision, the durable material of this beautiful gift will make the letter on the pendant shine with an elegant hue.
21. CalmMax Trampoline
This addition to your backyard will bring every teenage girl hours of fun. The play rule is simple since they just need to jump.
Yet, young teens can combine with tons of games such as basketball or chasing games. The trampoline, therefore, appears to be a great gift to kill time and build up teamwork.
The CalmMax trampoline has adapted the safety measurement. No worries about your kids' fun times! The material is also durable and long-lasting. It can stay in your yard for years.
22. SISIGAD Hoverboard
If your young lady is active and likes going out, this present will indeed become her sidekick.
Technology abounds in this item, which is simple to learn for both novices and amateurs.
SISIGAD Hoverboard includes a built-in Bluetooth speaker. Your daughter can connect it quickly and easily to portable devices such as a smartphone or tablet. She can enjoy her favorite music or book without having to wear headphones.
Related Post: Best gifts for 11 year old girl
23. Razer Kraken Kitty Gaming Headset
This fantastic gift is another headset on the list but has an adorable look. You may customize the headset with Razer Chroma lighting on the snake logo as well as the kitty's ears. Its unique design sets it apart from the competition.
The detachable microphone that blocks all surrounding noise makes the sound as great as it appears and improves stream music quality.
24. Sukeen LED Digital Alarm Clock
A digital clock may not be a unique gift, but the screen of this clock from Sukeen makes it distinctive. It's a mirror that teen girls can use every day for watching and taking care of their faces.
There are three brightness levels on the digital clock. When your 13-year-old daughter goes to sleep, the illumination will automatically lower to protect her eyes and conserve energy. She may change the brightness manually or automatically.
25. Himalayan Salt Lamp
Healthy living followers will appreciate this beautiful work of art. There are no two pieces alike because artisans carved them by hand.
It appears to be a home decor item first with a warm color and light. Besides, it can be good for health.
Whether your daughter is doing some indoor physical exercise or just sleeping, it's a fantastic tool. As a result of its relaxing atmosphere, you will be able to sleep peacefully.
Related Post: Best gifts for 10 year old girl
26. Sleepover Party Game Set
This game set is perfect for every party game for teen girls with friends. A human mirror and hilarious noises are just a few of the over 200 stunts, acts, and diversions in which a teenage girl may participate.
This Sleepover game set isn't just any old board game either. All night long, it'll have everyone rolling on the floor with laughter.
27. The 7 Habits of Highly Effective Teens – Perfect Gift Book For Teen Girls
Last but not least, a book can complete this list perfectly. Teen girls may suffer from stress during their teenage years, such as peer pressure or studying stress.
She also needs to learn many more skills to develop herself. As a result, the "7 Habits" is helpful to aid teenagers towards a positive life.