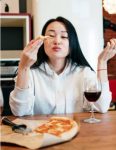 The 20 Best Gifts For Pizza Lovers – Top Trending Items In 2022
What are the best gifts for pizza lovers? The answer is very simple. Any pizza-inspired item can be ideal.
There are countless ideas to choose from, from aprons to shoe decorations. We can come up with gift ideas for those whose hearts pizza holds a special place.
For more culinary gift ideas, check out our recommendations below!
The Best Gifts For Pizza Lovers – Top Sought-after Items 2022
Pizza lovers tend to collect whatever pizza-related items. The list below probably will not belong to any collection yet. Read through it, you will find a lot of unique ideas.
1. Crocs Men's and Women's Jibbitz Food Shoe Charms
In the past, Crocs left our mind with its ugly shape. But people have gradually accepted them and made them a trend.
Unique to Crocs are the small holes for ventilation that allow you to get creative by attaching Jibbitz pieces. There are even people who find ways to hunt for the charms they love.
The pizza lovers won't be able to miss the cheese-covered pizza. And they're ready to beautify your crocs.
2. Pepperoni Pizza Blanket
This blanket simulates a giant pepperoni pizza with squishy sausages that look like they'll make your mouth water. A winter evening will be perfect when you curl up in a warm blanket and watch your favorite movie with your dog.
The blanket has two super-soft layers so that you can use any side. But be careful because your dog might bite the blanket off, mistaking it for a real pizza!
3. White Elephant & Secret Santa Gift Socks
Colorful pizza-themed socks can replace boring white and black socks. It is the F5 button for your outfit, giving it a dynamic and confident look.
The funny saying "If You Can Read This, Bring Me Some Pizza" can make you laugh. These socks will be the inspiration to help you create different outfits for walking, going to school, or going camping.
4. Funny Keychain Pizza
Have you and your lover just argued? Make peace with your half with this couple's keychain. The lovely words "You Have a Pizza My Heart" along with the cute little pizza could make any man or woman forgive you.
A pizza keychain will be a unique gift that shows how much you care for your other half. Only people who truly love each other can share their interests.
5. Visive Men's Printed Shirts
This pizza-printed shirt is a perfect addition to a boy's and men's wardrobe. It is a combination of elegance and mischief. Cotton material absorbs sweat well and brings coolness to wear on summer days.
If you plan to go to the beach with your friends, order these shirts for your group early. So, you can take them with you on vacation and take pictures of your friendship.
6. JOYIN Giant Inflatable Pizza Slice Pool Float
The end of the year is a time of partying, and a pool party is probably the perfect plan to celebrate the new year. Pizza-shaped floats promise to bring new colors to your play area.
It comes with a raised design at the top to keep you comfortable while lying down. Two cup holders allow you to prepare enough water to lie on the float for hours without worrying about getting thirsty.
You can tie eight floats into a complete clear pizza for a family dinner table on the water. This idea will help you get compliments from the party members.
7. Pizza Hat
Are you looking for Halloween costume ideas? This pizza cone may sound like a crazy idea, but it will help you impress your friends.
On another day, when you're hosting a pizza party, have each guest wear this hat on their head. And all ready for memorable selfies.
8. Bicycle Pizza Cutter – TOUR De PIZZA
Do you often break your pizza? You try your best to cut it with a knife, so it doesn't break into pieces.
Now cutting cakes will not be boring anymore because you have a Bicycle Pizza Cutter – TOUR De PIZZA. The front and rear wheels are made of stainless steel with a sharp non-stick rim to help you cut through even the thickest of pizza crusts.
9. Pepperoni Pizza Backpacks
Are you looking for gifts for teenage girls? Pepperoni Pizza Backpacks is sure to please the little pizza lovers and even the picky little girls.
It has enough space for you to keep your books and makeup, along with a protected laptop compartment. You'll also need it for camping trips with friends because it has heavy-duty straps that allow you to stuff a lot of stuff in it.
10. Angelina Women's Cozy Fleece Pajama Set
Let's have a Saturday burst with a sleepless night with friends and pizza. It sounds crazy, but it would be a shame not to give it a try. The charming golden cakes make you irresistible, and you can't stop eating them.
That wonderful night cannot be complete without these cozy fleece pajamas. Put them on and take memorable pictures with your friends.
11. FancyCase Fun Pizza Pattern
As you know, a phone case is a must-have for impact protection. It often impresses with its rough and boring appearance. But that ended.
Nowadays, you can find cases that are both stylish and protective. It's time to dress up your iPhone 12 with the pizza-pattern FancyCase. It will be a delightful gift for both adults and children on any occasion.
12. Space Cat Kitten Eating Pizza Cute Funny Coffee Mug
Every sip of coffee will taste better with this lovely cup. It is about a funny cat licking a piece of pizza in its hand. That image can melt the hearts of many young women.
This cup has a handle, so you can drink it hot or cold, depending on your preference. Ceramic material is the perfect choice for those who are looking for a safe cup to drink from.
Check with the manufacturer if this product meets the standards of Guidance for Safety of Imported Traditional Pottery Intended for Use with Food.
13. MUMENG String Light LED Pizza Shape
You can use pizza-shaped led string lights everywhere, from indoor to outdoor. They can apply in many fields, such as bedroom and bathroom lighting or bonsai and backyard decoration.
The most popular ways to use LED lights to decorate the bedroom are wall hanging and curtain decoration. The shimmering lights add warmth and playfulness to teenage girls' bedrooms.
14. Space DJ Pizza Cat Kitchen Bib Apron
Cats are always an endless inspiration for all lovely objects. And this apron is also a result of bold ideas.
The voracious and cunning cats always act funny every time they see their favorite pizza. This cute couple appears on top of an apron, making it the ideal gift for chefs who have a sense of humor and love pizza.
15. BIG HORN OUTDOORS Pizza Ovens
It will be great to enjoy restaurant-flavored pizza at home easily with compact and convenient pizza ovens. Baking pizza has never been so simple.
You need to knead the dough and sprinkle the filling on top. A delicious and beautiful cake will come out of the oven in just 90 seconds. The stainless steel makes the oven safe for outdoor uses.
16. Pizza Royale Natural Bamboo Pizza Peel
If you already have a home pizza oven, you cannot miss this pizza peel. Regardless of whether you are a pizza lover or not, this item is a must-have for every kitchen.
It doesn't just stop at the pizzas; it's also useful for ordering bread and other baked goods. This bamboo peel is not heavy, so you feel comfortable every time you hold it.
The well-treated surface allows you to place the food directly without worrying about harmful substances to the food. To preserve it, make sure you wipe them with a soft cloth dipped in warm water.
Related Post: Gifts For Peloton Lovers
17. Ocean Line Pizza Sunglasses
A breakthrough idea from Ocean Line can make every girl crazy. It is a pair of glasses with round pizza-shaped irises that bring cuteness and humor to every photo.
They are the red sausages that stand out on the yellow pizzas. The Pizza Sunglasses features UV-blocking transparent lenses, making it the ideal birthday or Christmas gift for kids and teens.
18. Xtreme Cables External Battery Pack
In today's industrial life, a portable charger is everyone's indispensable item. It ensures your phone doesn't run out of battery in emergencies.
However, cute devices can replace boring black and white versions. The pizza-shaped power bank helps you have fun while charging your phone.
Related Post: Best Gifts For Plant Lovers
19. Fiskars Non-scratch Kitchen Shears
Fiskars Non-scratch Kitchen Shears is a perfect choice for every housewife. It features scratch-resistant and heat-resistant stainless steel to prevent corrosion into food.
The upward-facing handle design protects your hands from burns. This item can cut off pizzas, quesadillas, pastries, omelets, and beefsteaks directly on the pan, baking sheet, or plate. Using it, preparing food becomes easier than ever.
20. Funny Space Pizza Rubber Mouse Pad
The cat is trying to steal your pizza from the baking dish. These little animals are always hungry, and the way they want to eat can make you both hate and love.
Someone put that cuteness into mouse pads. Thanks to the durable fabric that stacks dust and stains, any mouse can run on it without slipping. It not only will win the love of pizza lovers but also be useful for everyone.